Does your child love firetrucks and firemen? Get this firefighter word search puzzle filled with exciting firehouse-related words.
Sponsored Links

This firefighter word search puzzle is on fire! It's decorated with orange and yellow flames and the outline of a big red fire truck come to rescue the day. The colors are light so you'll save on ink. Here are the hidden words:
ashes
badge
battalion
blaze
boots
bravery
burn
captain
crackle
Dalmation
danger
embers
emergency
explosive
extinguish
fire engine
fire hose
firefighter
fire hydrant
flame
hero
ignite
paramedic
rescue
scorch
siren
smoke alarm
temperature
training
water
Like these free printables? You can give me the best compliment or "thank you" ever by sharing it with your friends!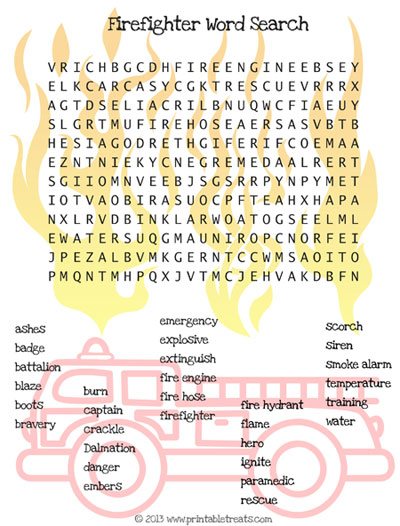 Terms of Use for the Firefighter Word Search Puzzle
You may use these files for your own personal, non-commercial use only. You may not distribute or sell the files or claim them as your own. (Files may be printed and distributed in educational environments.)
If you would like to share the firefighter word search for kids with a friend, please send them directly to this page (Do not link directly to the download file.) so that they can download a copy for themselves.
Thank you for complying with the terms of use!
Sponsored Links

Downloading and Printing
These files are in PDF form. You will need Adobe Reader in order to open it. If you don't have Adobe Reader, you can download it for free at Adobe.com.
We are a participant in the Amazon Services LLC Associates Program, an affiliate advertising program designed to provide a means for us to earn fees by linking to Amazon.com and affiliated sites.