Since Compassion has put a call out for correspondents for 300+ children lately I've decided it would be appropriate to share some child sponsorship gift ideas. Here is the latest batch of goodies I have sent to my sponsored child lately.
Sponsored Links

Child Sponsorship Gift Ideas: Paper Dolls
One of the neat child sponsorship gift ideas I had was to create a laminated paper doll with clothes that would stick on with Velcro. Everything can be changed – even the hair! Below, you'll see that the doll and each piece of clothing is stuck to a piece of cardstock with Velcro. I labeled the back of the doll with my sponsored child's name, number, and barcode in case it falls off in transport.
If you like this idea, you can download the paper doll and clothes on this site. The paper doll template will need to be modified a bit to look like the one I created below.
I created some accessories using various clip art resources from the web and mounted them on the back of the cardstock holding the paper doll and clothing.
Child Sponsorship Gift Ideas: Drawing Book
I wanted to give my little girl lessons on drawing so I printed out the awesome cartoon drawing lessons from how-to-draw-funny-cartoons.com and stapled them into little booklets.
I left blank pages on the opposite side of each tutorial for my sponsored child to practice. I also tried my best to use an online dictionary to write titles for the cartoons. Now I know quite a few animal words in Indonesian!
Scrapbook paper makes an instant pretty cover for the homemade drawing tutorial booklets. In the photo below, two booklets are drawing tutorials and one booklet contains just blank computer paper. This would also be a good way to make a small journal for older sponsored kids.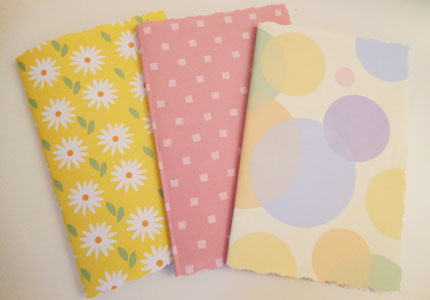 Child Sponsorship Gift Ideas: Paper Crafts
I ordered a book of paper crafts by Taro Gomi, a Japanese paper toy artist, from Amazon.com last year and have been slowly ripping out the pages to send to Felicia. I love these pieces because the paper toy is perforated and easy to put together. I always include a picture of the finished product as well. This time I sent paper boxes and a really cool fold-up 3-D paper city. Neither of the two projects require any tape and come with instructions printed on the page as well.
Child Sponsorship Gift Ideas: Stickers
Stickers are a staple of child correspondent goodies! The laser-cut and Carebear stickers were bought from the Dollar Tree and the alphabet stickers are extra scrapbooking stickers I had lying around. I am certain Felicia will enjoy using them to label her things!
Child Sponsorship Gift Ideas: Printables
And of course, none of my packages go without a few of my homemade printables. This time I printed and sent out two Indonesian word searches – one themed colors and one themed animals.
Child Sponsorship Gift Ideas: Sweet Cards
I bought this card from Walmart in the 99 cent section. They have quite a few simple yet cute cards in that section and I always stock up on them for my "sponsored child goodies stash". I think the cards are perfect to write letters in because it forces you to keep your message sweet and short – perfect for translators to work with. You can even tape an extra page to the card to ensure room for the translators.
Child Sponsorship Gift Ideas: Fun Folders
Last but not least, all of the goodies are placed inside of a cute folder to keep them all together. The folder is labeled on the front and back (each individual goodie is labeled as well). Although this folder is larger than 8.5 x 11 inches, it will go through. I think it was at 9×12 inches.
I hope you got some great ideas from this post and are inspired to send your sponsored child or correspondent child something fun. Stay tuned for more fun treats!