Disclosure: This is a sponsored post for Minted.com and contains affiliate links. I was compensated for this post. If you purchase through my links I may receive a small commission at no extra cost to you.
This year I'm noticing a trend of floral and botanical designs for holiday Christmas photo cards. The floral design is very popular because it is decorative and festive but also minimal at the same time, allowing you to keep the focus on the subject or subjects in the photo.
What I like about the holiday cards at Minted.com are the dozens of ways you can personalize the cards via all the different design options from shape of the cards to adding gold foil to choosing colors. You can truly make a one-of-a-kind Christmas card that's unique and perfectly embodies your family's spirit.
Here are 5 of my favorite floral holiday photo cards for this coming Christmas season:
The Christmas blessings card is super modern and elegant with its crisp white background and thin leaves and berries. Though you can change the color of the background, I like the original white because it feels light, cheery, and fresh like snow on Christmas day. The sample image shows a photo of a single child but I think this card would be great for a portrait shot of a family as well.
More traditional leaves and berries! These surround the sides of the photo in a frame-like manner. Since there is so much color on this card, it is good for black and white or gray-scale family photos like the one shown in the sample preview. You can also choose a portrait or landscape style orientation for the card as well.
This Christmas card is my absolute favorite because it's just so simple, crisp and clean. Though you can choose to change the background color and the
color of the berries, I like the classic Christmas greenery with red berries. It's very festive and minimalist at the same time. The wooden background in the photo really makes this photo card pop but you could also add a photo that has any color background or even a plain white one.
How cute is this card?! In this holiday photo card you have the botanical illustration in a frame around a circular photo which really makes the photo stand out in contrast to the square corners of the card. Although I included the white background version for you to see here, my favorite is actually the tan/kraft paper style which makes the lighter silvery leaves stand out more. (Here's the link to check out the one I'm talking about! Way cuter, right?)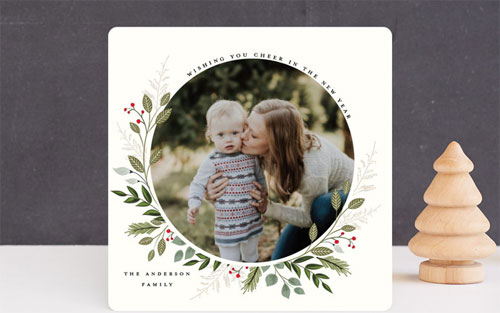 Yesss! Another card that comes in kraft/beige color. I love this card. It's my second favorite of this bunch because of the simple kraft background with white floral/botanic illustration. Unlike the other cards I listed, the floral illustration on this card is less realistic and more artsy. It has a more whimsical feeling. I also love this card in the mint green style.
Don't forget to include the pets! Millennial families with only pets for babies can pull these Christmas cards off too. In fact, putting a portrait of your pet into such elegant cards as these would be so cute and funny and totally embodies the "fur baby" statement.
Hot Tip: If you purchase any of these beautiful holiday cards from Minted.com you can get an additional 1.5% off by using the shopping rebate company Ebates. It's easy and free and has a feature that will show you coupons and cash back savings for any online shopping website you visit. You can sign up for Ebates here! (Affiliate link)
* Disclosure: This is a sponsored post for Minted.com and contains affiliate links. If you purchase through my links I may receive a small commission at no extra cost to you.