Welcome to PrintableTreats.com – a huge and growing resource for free printable party decorations, shape templates, digital scrapbooking files, and other printable items.
This site is filled with thousands of pages so your best bet to find what you're looking for is to use the search at the top of the page with these few things in mind:
Use All Parameters to Search
Make use of the 'Select a category' drop-down menu to help narrow down your keyword search.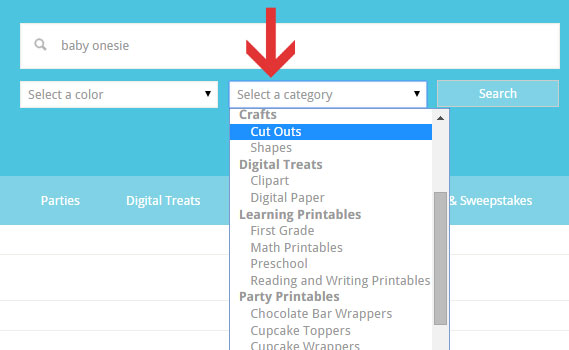 Most (but not all) printables with color are available in 100 different colors. Use the 'Select a color' drop-down menu in addition to typing your keyword to narrow down your search.
Here's a color chart with available options:
To Find Black and White Shape Outlines/Templates
These are in the category 'Shapes'. Enter your keyword, select the category, and leave the colors drop-down menu blank.
To Find a Colored Shape/Template
These are in the category 'Cut Outs'. They may come in many colors (except white – you want the category Shapes for that) so enter your keyword, select the category, and select the color you want.